---
We all need a pat on the back from time to time!!
Here are some of MY pats on the back...THANKS Everyone!
A resourceful, experienced and well connected real estate agent is always important when selling your home, but these qualifications are critical now in the toughest real estate market in over 70 years. Julie was able to find a buyer who qualified for a second home mortgage for our Lake Redstone home, enabling us to close after only 3.5 months on the market. In addition, she was able to find a good roofer at an excellent price to replace our roof after it failed the inspection, and she was able to get our garage fixed in only two days after our moving truck slid into it and damaged it four days before the closing. Her relationships with good, honest contractors really paid off for us. She helped us determine a realistic selling price and worked through numerous complex issues to get the deal closed, all while we were at home in Michigan. She helped us stage our home for optimal buyer impressions, and her web site layout and virtual tour of our home were outstanding. Why anyone would use any other realtor in this area is beyond our comprehension.
Marilyn & Bob Carlstedt, Rochester Hills, MI
Julie-
Margaret and I thank you so much for your hard work and dedication in helping us sell our lake house. After meeting you when we purchased the home years ago, you are definitely #1 in our book and we appreciate the friendship that has developed over the years with you and with Ray. We're really going to miss Dutch Hollow as it's a beautiful place to go and if we ever get back there, I can assure you, you are the only one we would work with. We really appreciate your efforts, professionalism and dedication in helping us make this happen.
Doug & Margaret, Sycamore, IL (Sellers)
Terry & I thank you very much for you and your team's efforts in selling our Reedsburg home! Despite the worst economic times of the last quarter century, you continued to aggressively market our home until the deal was written, signed and the check delivered. Your recommendations for improving our curb appeal at minimal cost were beyond the call and most appreciated. The MLS internet listing was very well written and the photographs and virtual tour were great. You kept the web site photos current as the seasons changed so our home did not look as if it has been on the market for a long time. If I wasn't try to sell our home, I might have bought it. Mailing copies of all newspaper ads you ran that included our home was also appreciated. Between the media and electronic advertising you created and published, we never had to wonder if prospective home buyers knew our home was for sale. We only have two regrets: Regret #1: We never met in person. You made it incredibly easy to conduct business over the phone and through the internet. If we ever get to Reedsburg again, we will meet, go out to dinner and thank you in person. Regret #2: We listed with another agency before we listed with you. That cost us 6 months of prime sales time and allowed the economic conditions to worsen. We should have gone directly to www.JulieSells.com as soon as we decided to list. Julie, we wish you the best success. Hopefully, the economy will improve and you will have another record setting year. Thank you again for selling our home!
Tom & Terry Biasi, Sellers~Reedsburg
I just wanted to thank you for making the seller of our house easy. You presented our house beautifully in pictures and on the web site. You made the closing comfortable when it was uncomfortable, and you went the extra mile to deliver us our check. Once Again, Thank You.
The Thorpe Family, Sellers~Reedsburg
Good morning Julie!
My faith in the human race was not only restored but enhanced by the wonderful way Manny and I were helped by all of you to purchase our dream home! Manny is the happiest person on the planet. He is sleeping so much better and has a nice skip in his step. I feel so blessed to have come to this community and to be a part of such warm, intelligent and kind people! Thank you from the bottom of my heart for your incredible professionalism and warm heart- I hope we are friends for a very long time! Please thank Pam also for her kind treatment and patience with us!
I will never be able to thank you enough for the happiness you have brought our family!
Barbara McPherson, Buyer-Reedsburg
Dear Julie, Thank you very much for the very professional way you handled the sale of our Lake Redstone property. Everything ran so smoothly that there was really no hassle or hardships on us throughout the entire endeavor. I can understand why you are so successful in the Real Estate business at the lake. Best Wishes and continued success.
Don & Rita Steffens, Sellers
Julie, We wanted to thank you for all you did for us with buying our first house. You truly made it a very easy process for first time home owners. We really appreciate all you did to help us. Thanks a heap.

Jen & Damion (Buyers)~Reedsburg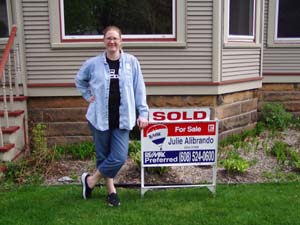 We want to thank you for working with us to sell our farmette. As you know we have worked with every realtor in Reedsburg. I know, that after working with ALL of the other realtors in Reedsburg, that you are the only Broker who was aggressive enough to get our property sold. You possess the knowledge and the know how of selling property. You have been number 1 in sales in the area, for some time now. We highly recommend you above all all other Realtors in Reedsburg, whether buying or selling, you will always be Number 1 with us.
Ray & Marge Fredrich
Arlington Heights, IL (Sellers)
We really want to THANK YOU for the great job that you did for Jane and I
When we left the lake and and gave you the keys we knew we would not have
to come back next summer and TRY to sell our home away from home, we've been
there and done that. So with our thanks to the BEST REALTOR in the LaValle-
Reedsburg area, the one that WORKS for the buyer and seller the only thing
I can say, IF YOU DON'T GO TO JULIE you may not sell your house or find
what you need.
Great job Julie you are a SUPER GAL, you sure know your stuff.
Ed and Jane Hiller (Sellers)
Lehigh Acres, Fl.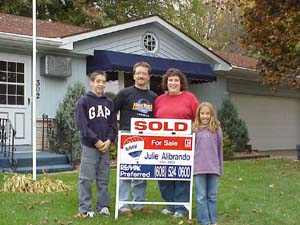 The Carl Walz Family
How's this for a Great Pat On The Back??? LOOK At those SMILES!!
"I could go on and on about the wonderful relationship that developed in such a very short time with Julie. Her market knowledge, listening skills, ability to really "hear" us, and genuine desire to find the right home for us are qualities of a true professional. After the sale is final as it will be shortly, I'm certain that Julie will still be available to help with all those afterthoughts and questions about the local particulars and the lake. I know this to be true since Julie is now my friend"
Rick Kusles, Wood Dale, IL (Buyer) (want to see the entire letter?)
"Julie was Great! We enjoyed working with her and felt
that she was always protecting our interests"
Eric & Debbie Beisbier, Reedsburg (Sellers)
"Julie has been a very good friend and my favorite REALTOR.
Julie getting a full price offer, what more can you ask for? My
family and I cannot thank Julie enough"
Albert L. Fuhrman, Reedsburg (Seller)
"I felt Julie was very good and if I ever sell my house or go to buy
another one, I would go through her. I would recommend her to everyone"
Tina Smith, LaValle (Buyer)
"We loved working with Julie-she is great"
Fred & MaryKay McLevich, Grayslake, IL (Sellers)
"Thank you for the time and effort you put into selling my home. I know that was not an easy task. I appreciate, not only the effort you put into selling my home for me, but also the education I received by you walking me through the entire selling process. Your professionalism and motivation to help me solve my problem, which was to sell my property, stands out in my mind more than anything. Thanks so much and I look forward to working with you again in the future"
Rob Hutchens, Reedsburg (Seller)
"Doug & I would like to thank you for an exceptional job helping us move back and 'making it happen'. We've worked with a number of realtors in the past couple of years and you honestly are the best at what you do. I am definitely glad to be back home in Reedsburg.
Doug, Judy, Nicholas & Gavin Gurgel (Buyers)
Questions? E-Mail The JulieSells Team
"Your Friend In Real Estate"
Julie Alibrando, GRI, Broker-Associate
Licensed In Wisconsin
Certified Residential Specialist
RE/MAX Preferred
100 E. Main Street, P.O. Box 56
LaValle, WI 53941
608-985-8484 LaValle Office
608-415-9093 Team Mobile~~Text~~Voice
608-524-0600 Office
ęCopyright 2001-2002-2003-2004-2005-2006-2007-2008-2009-2010-2011-2012-2013-2014-2015-2016-2017-2018-2019
Designed & Maintained by Julie Alibrando, JulieSells LLC all rights reserved